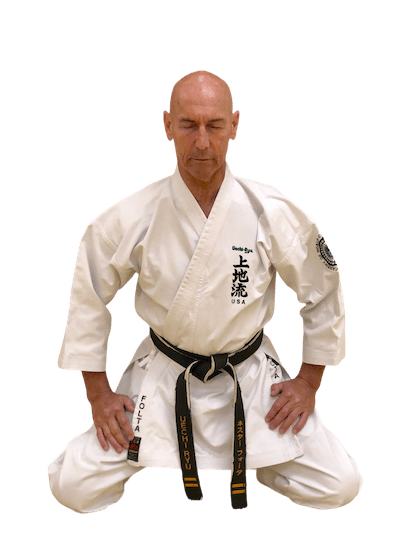 Master Nestor Folta
Nestor T. Folta is the owner of the Okinawa Karate and Cultural Center (OKCC) in Chantilly, VA. He is also the owner and head instructor of the Academy of World Champion Nestor Folta (AWCNF) traditional karate schools in Northern Virginia. Mr. Folta is a registered 8th Degree Black Belt and Master Instructor certified by the Uechi-Ryu Karate-Do Association. All his rank promotion tests and certifications have been conducted at the prestigious World Headquarters for the Uechi-Ryu Karate-Do Association in Futenma, Okinawa, Japan (aka Soke Shubukan).
Mr. Folta is the only foreigner from outside of Okinawa to have been taught under the direct tutelage of Grandmaster Kanei Uechi and to have had all his belt rank promotion tests (up to 8th Degree Black Belt) done in person at the World Headquarters for Uechi Ryu Karate Do. [Note: After Uechi Kanei Sensei passed, Mr. Folta was aligned under the teachings of each subsequent No. 1 son, Sensei Kanmei Uechi and Sensei Kansho Uechi, who became world headmasters for the style after their father was deceased]. Mr. Folta is grateful and feels God blessed to have this long-term relationship with the Uechi family in Okinawa.
Born in Worcester, Massachusetts on June 22, 1953, Mr. Folta is the only son of Tadeusz and Anna Folta. He has two sisters, Marika and Lydia. He graduated from the University of Massachusetts as a Civil Engineer and started working for the Federal Government in the Washington, DC area.
In 1983, Mr. Folta's work as a Civil Engineer brought him to Okinawa, Japan, where he became immersed in the local culture. From 1983 to 1988, the dojo (karate training gym) members at the World Headquarters in Futenma became his extended family while he studied under the direct tutelage of 10th Degree Black Belt, Grandmaster Kanei Uechi, son of the founder of the Uechi-Ryu style of karate. In 1984, he became the All-Okinawa Uechi-Ryu Kyu (under black belt) Champion.
Mr. Folta married Okinawa native Mayumi Kishimoto in 1986, and they have fraternal twins named Nestor Koichi and Naomi Marika, born in 1995. Mr. Folta speaks some Japanese, plays some on an Okinawan instrument called Sanshin (banjo-like), performs Eisa drum "The Beat of Okinawa," and regularly visits Okinawa. He teaches Uechi-Ryu karate and self-defense, as well as conducting karate seminars and motivational speeches.
Mr. Folta is renowned for his knowledge of traditional karate, particularly Uechi-Ryu as taught in the "Birthplace of Karate," Okinawa, Japan. He lived there for 5 years (1983-1988) and has made annual training visits ever since. He is a 7-time World Karate Champion and achieved numerous state, regional, and national Kata championships and is a Uechi-Ryu Karate National Champion in Kumite (fighting). He is also a World Uechi-Ryu Karate Champion in Yakusoku Dan Kumite (prearranged black belt fighting). In 1996, he was inducted into the World Martial Arts Hall of Fame and is the only senior in history ever to win the Men's Form Grand Championship in a North American Sport Karate Association's (NASKA's) top-rated event.
In 2016, Mr. Folta participated in the Guinness World Record for the most people performing a karate kata together at one time in Japan. In 2018, he finished 5th place in the senior division at a world karate championship in Okinawa, Japan.
Apart from his achievements in the martial arts world, Mr. Folta is also a philanthropist. In 2001, he raised $25,000 for the victims of the 9/11 terrorist attacks in a bilateral cooperation between the people of Okinawa, Japan, and the U.S.A. He continues to be an active member of the Knight of Columbus in Northern Virginia and his local community.
Mr. Folta is available for private instruction, seminars, workshops, and motivational speaking at a rate of $220 per hour or $1500 per day. Contact Master Folta at email: masterfolta@gmail.com or by telephone/text: 703-628-4006.
Mr. Folta started competing in karate at the national and international levels in 1993, achieving numerous first-place finishes and grand championships. A few of his more noted honors and awards are:
1996 Hall of Fame Inductee - World Martial Arts Hall of Fame
1996 World Champion - World Uechi-Ryu Karate Championships
Grand Champion Black Belt Forms, Boston, MA
1995 World Champion - World Uechi-Ryu Karate Championships
Yakusoku Dan Kumite, Boston, MA
1996 World Champion - International Sport Karate Association & U.S. Open World Championships
Men Senior Executive Black Belt Forms, Orlando, FL
1995 World Champion - Battle of Atlanta World Championships
Men Senior Traditional Black Belt Forms, Atlanta, GA
1995 World Champion - Otomix World Open Freestyle Championship
Men Senior Traditional Black Belt Forms
1996 World Champion - Battle of Baltimore World Karate Championship
Men Senior Traditional Black Belt Forms, Baltimore, MD
1995 World Champion - Battle of Baltimore World Karate Championship
Grand Champion Men Black Belt Forms, Baltimore, MD
1996 National Champion - North American Sport Karate Association (NASKA)
Rated No. 1, Men Senior Executive Black Belt Forms
1995 National Champion - North American Sport Karate Association (NASKA)
Rated No. 1, Men Senior Executive Black Belt Forms