Build Strength With Our Adult Karate Program in Chantilly
Like any tool, a body must be honed and maintained. As Chantilly's premier martial arts studio, Okinawa Karate and Cultural Center has developed a program to not just teach powerful self-defense skills, but to train your body itself to become a more healthy and effective fighting machine! Adult Karate at Okinawa Karate and Cultural Center is for adults ages 20 to 50 years old.
Our focus on essential exercise, strength training, and combat technique will ensure that you will leave our Adult Martial Arts program stronger, fitter, more confident, and capable of defending yourself and your loved ones.
Simply fill out the short form on your screen to learn more!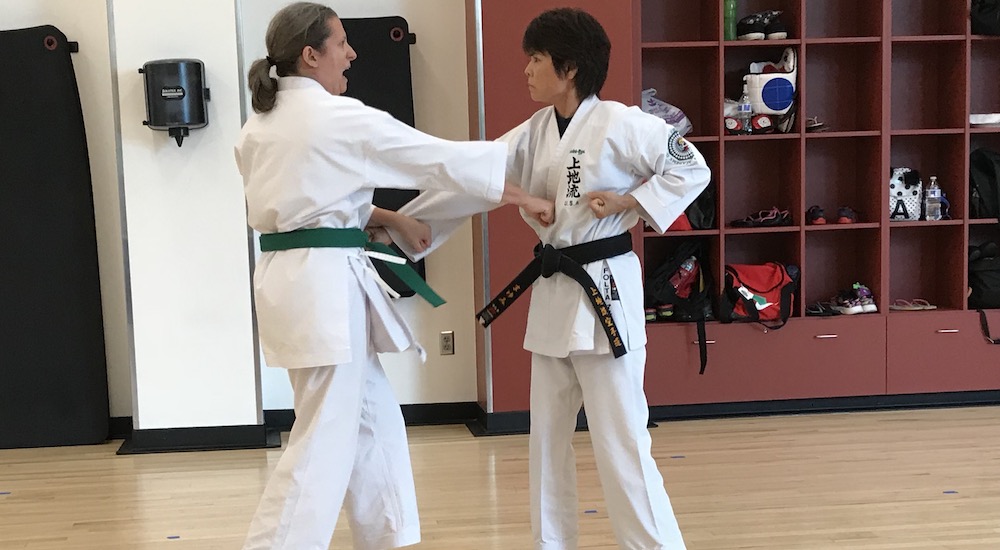 You're in your prime. This is YOUR time! Succeed . . . AGAIN!
You have serious thoughts of life looming ahead with all its challenges and with all its opportunities. Firm up your goals and decide to get ahead. You don't have to carry out this resolution alone. Move forward together with other like-minded people who develop an unwavering faith, high courage, and a proud heart.
Our school is interlaced with Okinawa culture, and karate is an integral part of the Okinawa culture. Okinawa is recognized as the "birthplace of karate." It is commonly said the key to Okinawa culture is the Okinawa heart.
We give inspiration to our students that yes, they can do anything, if the put their heart to it. We teach our classes as done in Okinawa, Japan, with Okinawa heart that nourishes our family and our community with good sense and good vibes. Life in an Okinawa karate dojo is more a family than just a gym, and that's what we strive for at the OKCC.
Rigorous training is coupled with life-saving skills such as proper eating, sleeping, strength, balance, and meditation practice that leads to healthy wellbeing. Self-defense consists of making the time to learn and understand good solid fundamental movement (kinesiology) and techniques as well a body conditioning and development. From a common student to a typical worker, to a loving mom or dad, to a high paid executive, nobody wants to get hurt. So, safety is paramount and gradual strengthening is encouraged.
A Healthy Mind & Body Through Karate Training
Our program has been specifically designed to accommodate anyone, including those with no fighting experience at all! We seek to improve the lives of anyone interested in learning the art of self-defense. As such, our Adult Karate program is streamlined and structured so that anyone who participates can and will benefit, whether they are improving current abilities, or seeking to learn new ones.
Our Adult Martial Arts classes prioritizes wellness and conditioning just as much as combat defense. When you join our program, you WILL see a marked improvement in your fitness and health! The skills you acquire during your training are guaranteed to better your cardiovascular health, your muscular strength, and your overall bodily performance. Not only will you learn vital tools for self-defense, but you will look great doing it!
You will learn to:
Know when and how to say "No" and mean it
Learn how you build hope when you say "Yes" and tell somebody you will do something, and how you build trust when you do it
Make your body healthy
Make your mind strong
Make your spirit faithful
Our goal is for you to master your art by achieving 5th Degree (Master Level) Black Belt. This is where you level up your emotional and physical intelligence and understanding. Reveal the "secrets" to a better life, filled with health, wellness, and happiness as you achieve self-actualization.
Come to our state-of-the-art facility, which is aesthetically pleasing and functional. Become truly at peace with yourself, loved ones around you, and with your environment.
Join Us And See The Results For Yourself!
Okinawa Karate and Cultural Center is waiting to help YOU become the best you can be. Our Adult Karate program is the most thorough and effective in the Chantilly area, and we can't wait to prove it! Fill out the form on your screen and sign up today!
Simply fill out the short form on your screen to learn more!